Post by Nicholas, Duke of Bradamante on Mar 12, 2015 17:18:52 GMT 1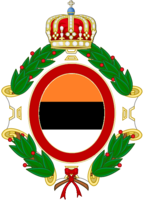 GENERAL ASSEMBLY OF THE KINGDOM OF RUTHENIA
Cabinet of the President of General Assembly


MANIFEST TO HIS MAJESTY, THE KING
About the "Divine Right of Kings" and our kind of Monarchy.
HIS EXCELLENCY
, the
PRESIDENT OF GENERAL ASSEMBLY OF THE KINGDOM OF RUTHENIA
, in free use of my constitutional privileges granted by
HIS MAJESTY
,
the
KING
,
I address to His Own Office to make public and binding our manifest about the style of His Majesty and the king of Monarchy we create in Ruthenia, since it's not provided and well-explained in our Constitution.
After a detailed and comprehensive analysis of the Constitutional text and observing the phrase "by the Grace of God" attached to the titles of our reigning monarch, we can conclude that our Monarchy serves himself of the "Divine Right of Kings" and this General Assembly express his concern about a Monarchy that could be based on a political and religious doctrine that was already outdated and may disturb us from our goal. According to this doctrine, only God can judge an unjust king. The doctrine implies that any attempt to depose the king or to restrict his powers runs contrary to the will of God and may constitute a sacrilegious act. And that's the main reason the General Assembly is worried about: our King gave us a Constitution, but it's allowed to ignore his terms! The State is not a Ruthenian State, but can be a Oscar's State, drove by his will, not matter what we, Ruthenians, should think about his actions.


I must recognize our King is not a tyrant. He gave to his people powers and granted a Constitution and the possibility to us to change it. And our system of monarchical governance in which the monarch's title is linked with a popular mandate rather than a constitutional state, indicating he is the monarch of his people rather than sovereign ruler of the lands we live, showing the popular support to our Sovereign and his cocern to our fate.


But Oscar the First is just our first king. We won't be the last. We don't have any way to know his sucessor's will be qualified and democratic as he shows he's. This way, in the name of General Assembly and will of the Nation, we humbly ask our Sovereign, Oscar I to answer our claim and estabilish ourselves as a Constitutional Monarchy, protected by the King and his word of never use or allow the use of his "Divine Right" to become an Absolute King. That's what we ask for.

No more, it is expected a response.